Serving Our Members Since 1929
Formed in 1929, the National Armored Car Association (NACA) is a business association that brings together the three major companies of the armored car industry—Brink's+Dunbar, Garda, and Loomis—with a focus on protecting and promoting the common interests of the industry. Our members provide secure transportation and cash management services for the Federal Reserve, financial institutions, state and local governments, and private businesses and individuals across the United States and internationally.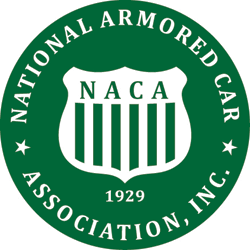 Armored Car Industry Reciprocity Act
Read about the Federal Reciprocity Act, what it means and why its important to armored car companies, their employees and customers who need safe transportation of cash and valuables.
NACA Safety and Training Programs
NACA is serious about safety and training. Read more about NACA training programs and our efforts to promote safety throughout the industry.
NACA educates lawmakers on issues important to our industry to help ensure we can deliver cash and valuables as safely and efficiently as possible.